A moment of coxing genius decided the 168th Men's Boat Race. Precedents are few and far between but the 1987 Men's Boat Race, made famous by the film True Blue, springs to mind. Back then while BBC commentators blathered about a "Wagnerian climax" stormy conditions and a direct, strong northerly wind led Oxford to seek shelter beneath the Fulham Wall. This year's conditions were less severe so Cambridge's decision to divert course carried greater risk.
"In most races you lose quite a lot of speed cutting that corner," explained Cambridge cox Jasper Parish on his instinctive gamble. "The speed of the water slows down a lot because of the Fulham Flats, but today was rougher than we expected. I could see the water hitting the riggers and I could feel that it was maybe doing more damage than the stream was helping us. I made the call; it was a gamble and in the end it paid off. It easily could have gone either way."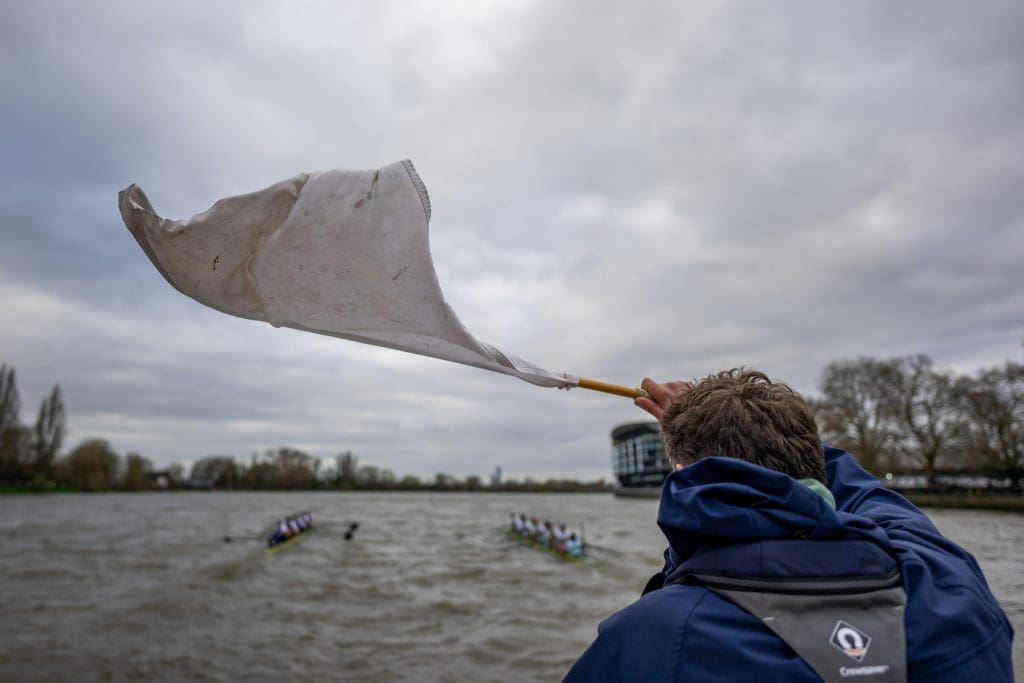 It happened at the end of the Fulham Wall as Oxford (on the Surrey station) responded to a warning from Umpire Antony Reynolds and steered away from Cambridge. The Dark Blues must have felt shocked at the sudden absence of their opposition. The decision gave a half-length advantage to Cambridge and they continued to pressure their forever-rivals.
Within six-minutes, Oxford's Surrey advantage had been neutralised. Cambridge edged across and had a clear run beneath Hammersmith Bridge. But Oxford, close behind, fought hard. At the start of the Eyot – not dissimilar to their OUWBC counterparts – the Dark Blues launched a monumental do-or-die effort to regain a foothold in the race. It wasn't enough.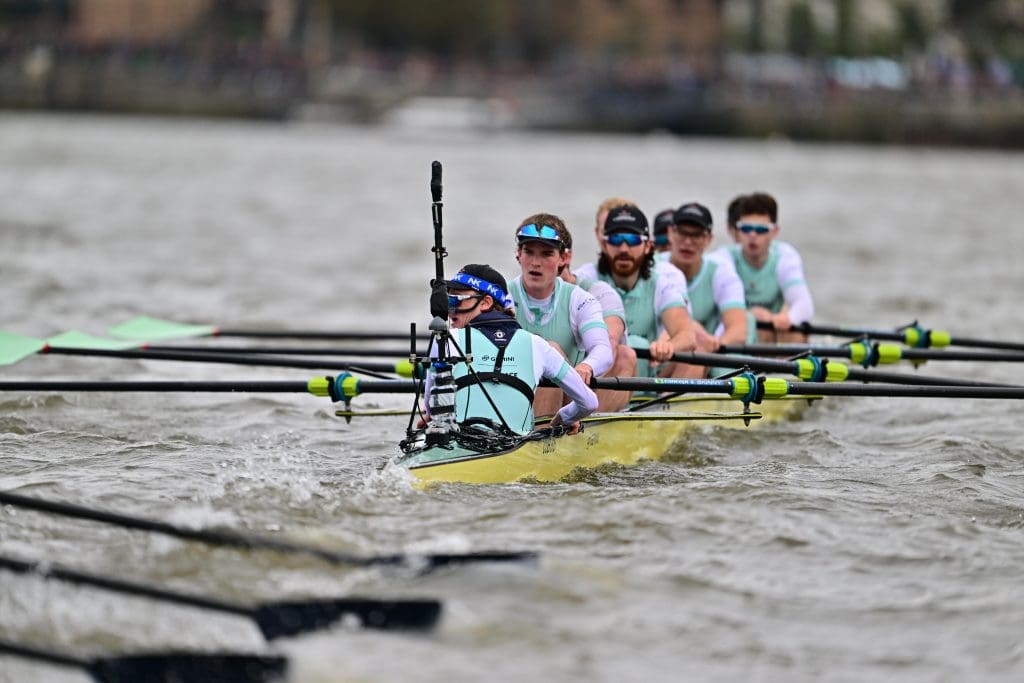 Cambridge extended the gap and controlled the race all the way to the finish.
Jubilant celebrations turned sombre when Oxford's strokeman Felix Drinkall was hoisted from the boat by the RNLI and rushed onshore for medical attention. Later, Alex Bebb and Anna O'Hanlon also required attention. Oxford's effort will never be questioned. Thankfully all members of the crew made a full recovery and are well.
"We couldn't be prouder of Felix [Drinkall], he is the best strokeman we could ever hope for," reflected a bereft Jean-Phillipe Dufour. "We went as deep as we could for each other." The Swiss Canadian raced from the six-seat and suffered his second loss to Cambridge.
"I'm not too sure how we let that one slip but Cambridge were better. Around the Fulham Bend they just rowed through us. We always believed, all the way through, that we were going to comeback, claw back. No-one gave up, not for a single stroke. It is unbelievably disappointing."
"The good-feeling doesn't feel as good, as the bad-feeling feels bad," said the Cambridge's Rob Baker who enjoyed his third win as the Cambridge Men's Head Coach, following last year's loss. He said cutting the Fulham Bend was not pre-planned. "[It was] all Jasper. He took the judgement call on a dime."
It points to the sense of ownership Baker instils in his Boat Race crews. Nevertheless, it was a nerve-shredding one to watch: "You just see how it plays out. We started going away as soon as that happened. I thought he was brilliant and he managed the whole race incredibly well. Clearly, it was tight. Our rowing was solid. We never had the speed to burn away but the crew handled everything brilliantly."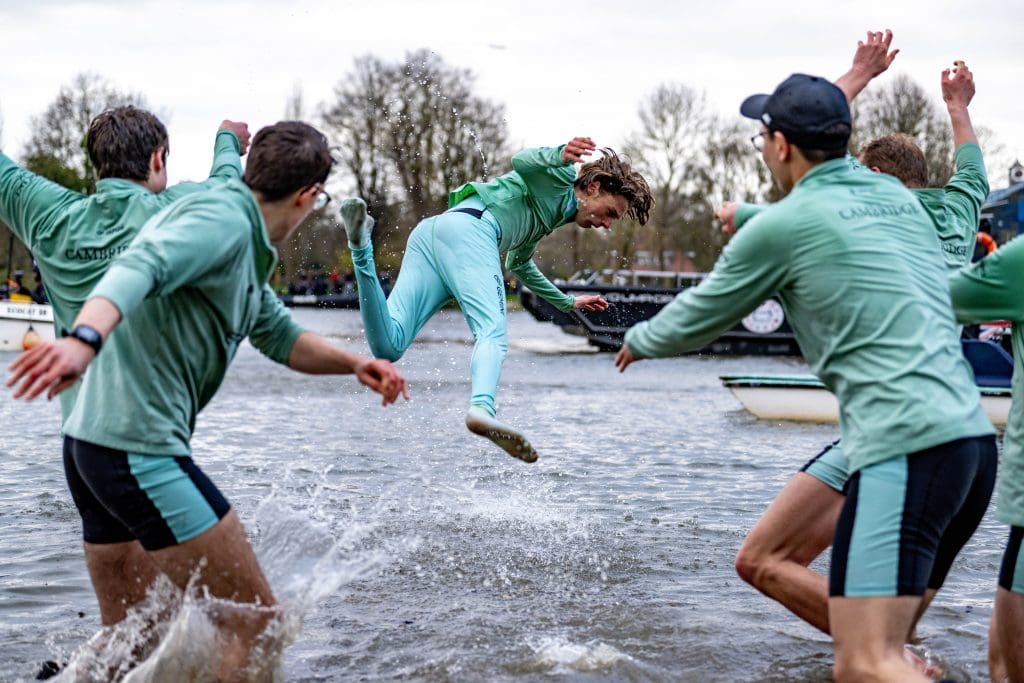 The final word goes to the hero of the day. The iconic celebration shot in the men's race will be Jasper Parish leaping into the air before celebrating with his brother, Ollie, in the seven seat. What's it like to win together as brothers? "It means the world, so special. I'm proud to be able to do it with him. It has been a great day."
Words: Tom Ransley
Photos: Benedict Tufnell/Row360