Cambridge Veterans' Boat Race alumni David Dix (Pembroke College, Rugby Blue 1991, 1992) and David Gillard (St. Catharine's College, Blue Boat 1991, 1992, 1993) recently joined a small team in Dublin to attempt the 50-59 years' old 24-hour Concept2 rowing world record.
The attempt was also tied to a fundraising initiative with "Team Gavin Glynn" championing The Gavin Glynn Foundation, a charity that supports families of children battling cancer to travel overseas for treatment not available in Ireland. (www.tggf.ie)
The 24-hour rowing event took place in the Garda Síochána Boat Club, where the team were kindly given sole use of the gym. The team were not all rowing at the same time, but took turns using one machine. The rowing machine (also known as an 'erg') was positioned close to the rowing club's balcony doors, a perfect spot to walk off each piece overlooking the River Liffey.
The predominantly Irish team included Olympians and World Championship medallists, but also one member who had taken up indoor rowing after a running injury and had never raced on water. The team were Niall O'Toole, Albert Maher (Team Leader), Steve Turner, Brian Collins, Kenny McDonald, Sean Jacob, Denis Crowley, Philip Healy, David "Dixie" Dix and David Gillard.
The world record they were setting out to beat was set in 2019 by Texas Rowing Centre and required the team to break the mammoth distance of 405,113 metres rowed in 24 hours, an average split of 1:46.6!
The plan on the day was for each of the rowers to blast out sets of 90 seconds of intense rowing in rotating groups of 3. This way there were meaningful rest periods and the rowers would not get too cold between efforts. With heads down and brains fogged by the efforts, the team minimised energy expenditure on anything that wasn't necessary. The team reported that the worst part was after the first 20 sets of 90 seconds. Despite members of the team looking like death warmed-up, nobody faltered.
With no residential neighbours to disturb, Dixie's 14-hour Spotify playlist could be cranked up for their own Highway to Hell (track 26). Albert's second home, Commercial Rowing Club, a short stroll away, could be used for those that needed a respite from the Uptown Funk (track 58) – complete with beds for snoozing.
The team were extremely grateful, both to have and not to need, on-site emergency medical cover from the Order of Malta – as well as the support of a small but dedicated team.
Through an almighty effort the previous record was passed after 22 ½ hours and the team decided that the final stretch would be spent in shorter intervals "all in", gradually eking the average split downwards and setting the bar as high as possible on the new world record.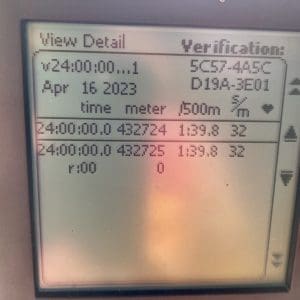 Previous record: 405,113m Texas Rowing Centre 21st – 22nd December 2019 (500m average split 1:46.6)
New record: 432,724m Team Gavin Glynn 15th – 16th April 2023 (500m average split 1:39.8)
How did the team celebrate? Despite knowing they would disappoint their coach, Eddie Fletcher, they skipped the wind-down paddle and headed for a pint of Guinness.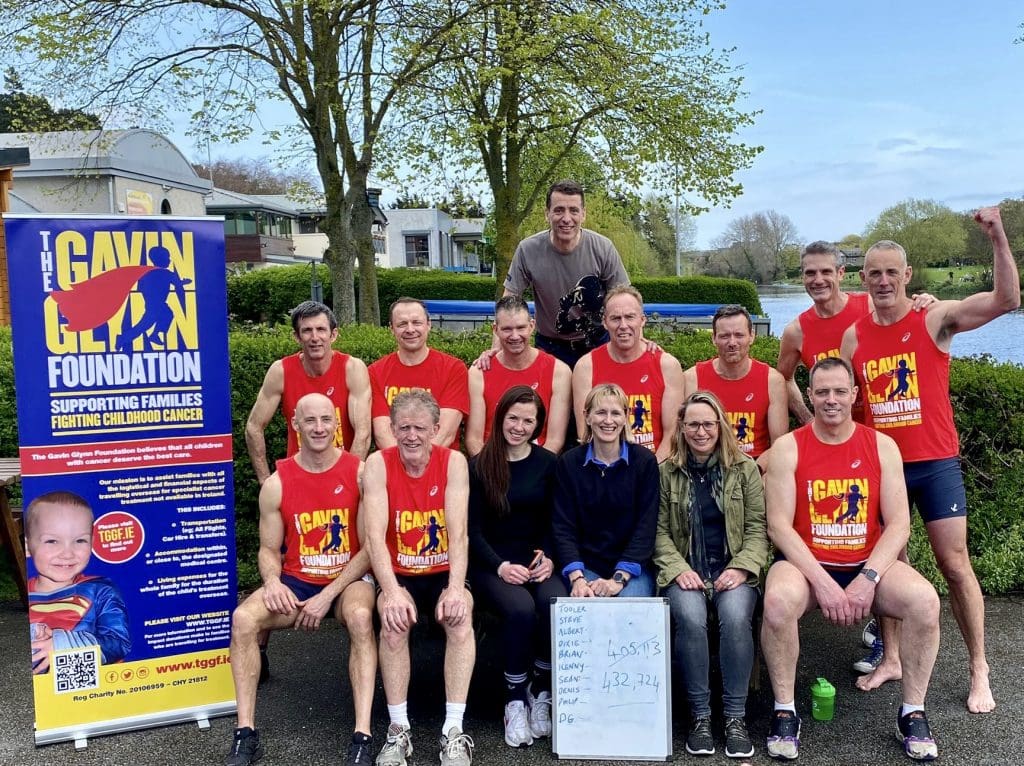 It wouldn't be everybody's idea of a pleasant weekend away in Dublin, but with a new world record and in excess of €20,000 raised from over 300 donors at the time of writing it was undoubtedly a success.
If you would like to donate, you can do so here.
Photos: Vicky Gillard