Bled in Slovenia with it's epic scenery is the Disney Princess of rowing courses and as the host venue for the 2023 European Rowing Championships it provided an apt backdrop to something of a fairytale performance for the Great Britain team who topped the medal table for the second year in a row with five Gold, three Silver and two Bronze medals.
As we mentioned in our preview, the event showed/brought a generous sprinkling of Light and Dark Blue, not just within the GB team but also abroad, and here's a round up:
To the big boats first and straight to the drama with a positive COVID-19 test for GB Men's eight cox Harry Brightmore leaving Charlie Elwes (Oxford '22) and the rest of his crew looking for a replacement.Thankfully they didn't have to look far to find an experienced pair of hands, with Henry Fieldman (Cambridge '13) already coxing the GB women's crew.
Even with his vast experience it can't have been easy just to drop into an established crew. It will have been bittersweet for Henry in the circumstances, but winning a Silver Medal in his crew, the Women's Eight (W8+) and winning Gold the most thrilling races of the whole Championships with just inches separating the three medal winning crews will have made it a weekend to remember forever. Well done Henry.
Sticking with sweep rowing, Freddie Davidson (Cambridge '17, '18 & '19) and David Ambler's (Oxford '22) put together a commanding performance in the Men's Coxless Four (O4-) winning the A final by 3 seconds ahead of the Netherlands, France and Romania fighting for the other medals. This performance sets the crew up for what we hope will be a fantastic season.
In the Mens Pair we saw a Boat Race '22 reunion with Cambridge crewmates Ollie Wynne-Griffith and Tom George facing down Roman Röösli (Oxford '22) and his Swiss partner Andrin Gulich fresh from their successful World Cup I performance. In Bled, Roman and Andrin collected the Gold Medal in a nail biting final as the Swiss (and Oxford) who came out on top with the GB pair collecting the Silver Medals.
For Erin Kennedy (Oxford '14) there are no shortage of reasons to celebrate at the moment. Erin made her return to Coxing after an arduous 12 months of cancer treatement. Her victory in the paralympic class PR3 Mixed 4+ will have been quite the thrill not just for her but also her crewmates, family, friends and supporters. It's the perfect return!
And last, but by no means least, another commanding performance from Imogen Grant (Cambridge '17, '18 & '22) and her doubles partner Emily Craig in the Lightweight Women's Double Scull (LwtW2x). This crew continue their march to Paris with eyes on one thing – Gold.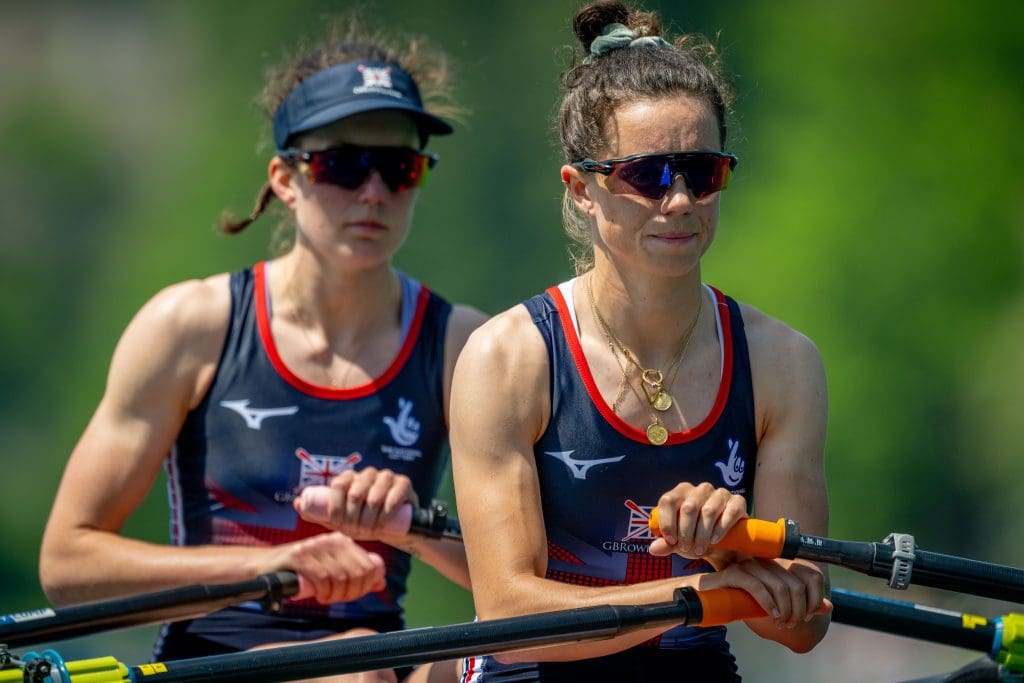 A superb set of results for these athletes and their crewmates we're sure you'll agree, we can't wait to see what lies in store for them later this season!
Photos: Benedict Tufnell / British Rowing